The shop history
The history of the shop really starts on the classic racing and autojumble circuit in the mid 1980's operating out of a Bedford CF2 van and a lock-up garage. This was soon after augmented by the acquisition of half of a tiny industrial unit which we operated evenings and weekends, building the business up by what is known these days as sweat equity, in our new home Unit 2A Ram Yard. Strangely, the jobbing printer who occupied the other half of the unit had, at one time worked in the drawing office at Ariel Motors at Selly Oak.
The decision to go "full time" is, I doubt, ever an easy one but, for better of worse, I took the plunge in 1989 followed shortly after by a move to a much larger unit at 3 Ram Yard. The property owner threw in a mezzanine floor he had kicking around and even helped us to install it. A phone call from a former co-worker in the car industry donated a whole lot of ex-WD racking the former property of the local Vauxhall dealer who was re-equipping, which got us up and running on a real tight budget. Even more strangely, it turns out, when the footings were being dug out for Units 3 and 4 they disturbed the grave of a buried BSA C11.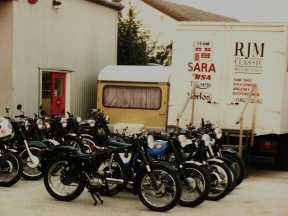 Finding it necessary at that time to maintain a presence on the Show, Racing and Jumble scene we also acquired a 7.5 ton Dodge Commando with a box body which was converted into a walk-on shop with overnight accommodation. Happily, three years later, pressure of work at the yard led to the retirement of this noble beast. Ten years ago, the some what unexpected retirement of my former business partner let to the closure of our mail order spares service to allow me to concentrate all of my efforts on repairs and restoration work.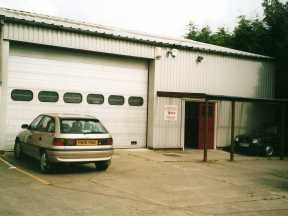 By now the previously cavernous Unit 3 was beginning to feel a bit cramped, and about five years ago the opportunity came up to acquire the freehold of both Units 3 and 4. It seemed like a scary decision at the time, but a no -brainer with hindsight. A substantial mortgage has to be preferable to an increasingly difficult landlord any day.